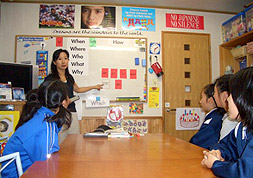 IE TreeHouse is a private English school in Morioka, Iwate, Japan. (It is in Tohoku, northern Japan.)
I am Satomi Miura, an owner and an instructor at TreeHouse.
IE stands for "international education" and TreeHouse is my ideal place to stay since I was little. That is why I named my school IE TreeHouse. I would like to teach English and some manners as a real global person through fun fun experiences. Teaching is learning.
There are a few instructors from overseas, such as Canada, America, the U.K., and Nepal. If you are interested in teaching job here, feel free to contact us:ietreehouse@gmail.com
Thank you!
Satomi Miura
1-14-19 Tsukigaoka Morioka-si Iwate 020-0121 JAPAN
IE TreeHouse
Access Map (Google Map)